My Cleft Lip Story (each section has several pictures; make sure to TAP on the ARROW in each section to see them all)
MAKE SURE TO SCROLL TO THE VERY END!
On June 21, 2003, I was born in a hospital in Tallahassee, Florida, with not just one family but two supporting me every step of the way: My birth family and my adopted family. Beth called my mom to tell her it was time. I was born at 5:55am and as you can see I was born with a cleft lip. And so my cleft lip story begins…..
At 8 weeks old, I had my first cleft surgery in Tampa, Florida by Dr. Mutaz Habal. For several weeks, I had a hard plastic tube that stayed up my nostril (that had the cleft) and popsicle sticks taped around my arms so I wouldn't pull at my stitches or the tube. Dr. Habal had Mom and/or Dad twist the tube to make sure cartilage didn't close my right nostril (usually Mom because Dad couldn't ever stomach it). They said I screamed and cried whenever they had to twist it.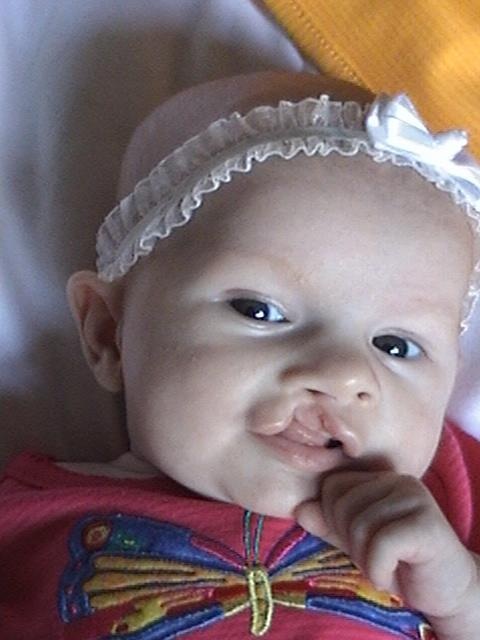 At 2 years old, I had surgery in Little Rock, Arkansas to even out my lip. Dr. Lisa Buckmiller was my surgeon. She even took pictures of me while she had me back in surgery!
At 8 years of age, I had surgery at Duke: Alveola Bone Graft (ABG) Surgery (you can read about it here: https://www.clapa.com/treatment/school-years-5-12/alveolar-bone-graft-abg-surgery). Dr. Pedro Santiago in Durham, NC did all of the prep work (which took several months) for the surgery. I was out of school for four weeks.
At age 12, it was time for braces. After x-rays were taken, I needed several teeth pulled where the cleft was (even after so many were pulled at my 8 year old surgery). Look at the long one in the pictures! And I finally got my braces at 13.…
At age 14, my orthodontist recommended me to get a root canal. I had an extra fused tooth at the cleft that made it tough for the braces to do any more "work" in that area.
I am thankfully nearing the end of the road on my Cleft Lip Story. My orthodontist says I have about six to nine more months with my braces. Here are the latest (VERY COOL) x-rays of my cleft (taken in November 2018).
Here is a BEFORE (2003) and AFTER (2018)
On June 14, 2019, my braces are finally off!! (see below picture) I still have some minor shaping on my front, top teeth from the dentist but other than that this long road is over! Thank you for reading my story and I hope it helps someone who is dealing with a cleft as well. God bless!